The United States and Canada offer some of the richest bicycle touring experiences in the world. Whether you are interested in touring the mountain ranges or deserts, plains or woods, North America has it all.

North America is a wonderful place for bicycle touring not only because of its varied terrain, but also because you can find good roads just about anywhere. Both Canada and the United States have well-run and extensive park services, which allow you miles and miles of touring opportunity. As a matter of fact, some parks are so extensive that you can spend an entire vacation exploring just one!

Plentiful campgrounds, both private and government-run, also make bicycle touring in North America easy. Many states and provinces have formed bike lanes, recommended bike routes, and special bicycle trails, and a network of roads traversing the United States called the Bikecentennial Trail is always growing.

While weather cycles are unpredictable in most parts of North America, the farther north you ride the shorter window of travel you have. Alaska, the Yukon, and the Northwest Territories allow for a rugged experience as most roads, including the Yukon highway, are unpaved or partly paved. For this reason, mountain bikes are usually the way to go. Only cyclists who know what they are doing, and enjoy solitude and challenge, should tackle this part of North America.

Those who enjoy riding through towns and farming communities will enjoy Western and Central Canada, which alternates between being mountainous and flat. Roads in Eastern Canada are more limited and the area is more barren; you'll have to take main roads some of the way. New Brunswick, Newfoundland, and Nova Scotia are more hilly but are much loved by nature seekers.

The West Coast, which runs from Vancouver to the Mexican border, is the most popular cycling area in the world. There, cyclists will find a mixture of terrain, from flats to good-sized mountains like the Sierra Nevadas. Cyclists looking for a desert experience will enjoy the Southwest, while those looking for a hard-core mountain experience can try the Rockies. The Plains and Midwest are wonderful for cyclists looking for a flat or mildly hilly experience, while the South is mostly flat. Mid-Eastern states afford cyclists a good choice of roads and terrain, from the challenging mountains of Kentucky to Virginia's beautiful countryside. The East Coast is a wonderful and interesting place to tour in spring and autumn, when temperatures are more moderate.
---
Copyright © Zeducorp.
All rights reserved.

Bicycle Touring in North America
Related Touring Image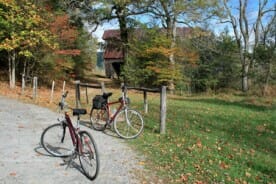 Bicycle Touring In Cades Cove, Tennessee