When planning a bicycle touring trip, you need to think of everything from how much equipment you are taking to what the weather might be like. Health and nutrition considerations are very important, as are the details of your maps and where you plan to spend your nights. In short, there are many details to attend to in order to ensure that your bicycle touring trip goes off without a hitch!

You can take your bike on planes, trains, ferries, and buses; just make sure you know the protocol. If you are traveling by plane you must disassemble your bike and pack it in a box. With all other modes of transportation, you can keep your bike intact but will most likely need to remove panniers and bags. If you are going to be navigating lots of planes, trains, and automobiles, you may want to invest in panniers and bags that snap easily on and off.

When planning your touring trip, you should consider the weather. Scheduling your bicycle trip during a time that is dry, mild, and windless is key to an enjoyable journey. Be sure to investigate the typical weather patterns of the areas you plan to tour.

Allow for unplanned contingencies like health and medical problems by packing a first aid kit as well as items you find useful in combating muscle stiffness and soreness. Be sure to pack items that protect you from sunburn, heat, and cold, as well as altitude and insects.

Before you leave, plan your cycling route and collect detailed maps of all the areas you plan on touring; cycling maps should be detailed, showing small roads as well as the topography and types of terrain. Plan an itinerary, including reserving the hotels, motels, hostels, and campgrounds at which you will be spending the night. As a precaution, learn where bicycle repair shops are located along your route, where you can get your bike repaired if needed.

The final part of your touring plan should be making sure you are physically and mentally up to the challenge. Make sure you train properly and are in the right physical shape to complete your tour. Familiarize yourself with safe riding techniques as well as basic bicycle repair tasks like patching tire tubes and changing tires.
---
Copyright © Zeducorp.
All rights reserved.

Planning A Bicycle Tour
Related Tour De France Image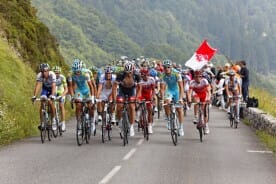 Tour De France - Aubisque Mountain Pass