The first piece of equipment you need when going distance touring is a touring bicycle, of course! While many people choose mountain or all-terrain bikes, keep in mind that this type of bike is less comfortable, heavier, and slower than a traditional touring bike. Unless most of your trip will be off-road, go with a good touring bike that fits you correctly instead. Be sure to pick out a frame that is hard and strong enough to carry the weight of both you and your equipment.
In addition to the right bicycle, the right cycling clothing is key for a productive and comfortable ride. First and foremost is a pair of light, non-cleated bicycle shoes that fit into the pedal's toe clips and spread the pressure against the pedal over the entire front part of the shoe. Socks should be made of a durable, natural material that allows your feet to breathe, keeping them warm in cold temperatures and cool in cold temperatures. Cycling shorts and pants come in a variety of colors and are usually made of Lycra or polypropylene. They come equipped with crotch and rear padding and are designed to be tight to prevent wind drag or catching on a chain. Rainwear, hats and gloves, and cold weather clothing should also be packed, as you never know the weather conditions you are going to encounter.
You will also need racks, saddlebags, and panniers to carry your equipment. Racks come in different sizes and should not obstruct the movement of the brakes when installed. A handlebar bag attaches to the center of the handlebars, while panniers can be mounted in the front or rear of the bike.
What will you be carrying on your racks and in your bags? In addition to tools to keep your bicycle in good working order, you'll also be carrying changes of clothing for yourself, food and water, and of course, camping equipment. Camping equipment should include a lightweight tent, sleeping bag, and air mattress, as well as a cooking stove and accessories. You'll also need a flashlight and lighter, plus a pocket knife and toiletries.
---
Copyright 2007-2021 Zeducorp.
All rights reserved.

Bicycle Touring Equipment
Related Images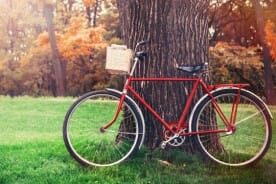 Vintage Bicycle Leaning Against A Tree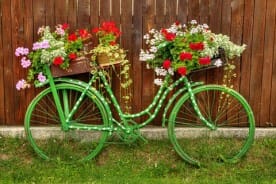 Green Bicycle And Brown Fence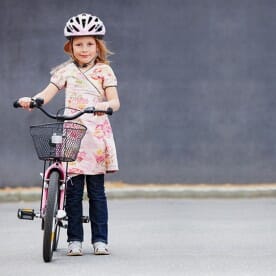 Bicycle And Child